Pound volatile on Brexit deal advice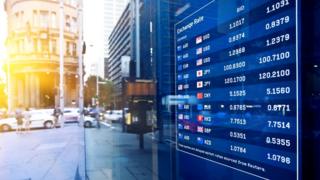 The pound is volatile ahead of Tuesday evening's Commons vote on the prime minister's Brexit deal.
Earlier it sank after the government's senior law officer said the legal risk of the UK being tied to EU rules after Brexit "remains unchanged".
Currency traders fear the attorney general's advice means Theresa May's revised Brexit deal is less likely to be accepted by pro-Brexit MPs.
However, the pound has since recovered most of its lost ground.
According to attorney general Geoffrey Cox, the UK may not be able to leave the Irish backstop without the EU's agreement.
The pound fell from €1.17 to €1.15 against the euro following his words on Tuesday morning. Sterling also fell two cents against the dollar from $1.32 to $1.30.
Mr Cox's advice is likely to weigh heavily on MPs when parliament votes on the new version of the deal later on Tuesday.
Currency; Pound vs dollar