N/A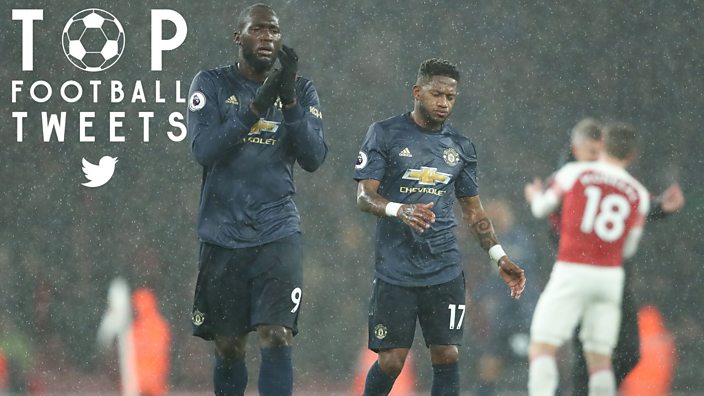 Getty Images
Will Solskjaer's first Man Utd loss see a return of St Totteringham's Day?
Arsenal fans are keen to get the bunting out. Can someone update them on if they'll need it please?
Oh what a weekend it has been. Not all good of course. But let's leave that behind and instead focus on the more quirky events that unfolded in football. 
Arsenal fans are excited about the potential return of St Totteringham's Day and have we just had confirmation that Premier League teams don't see the Community Shield as a competitive fixture?  
1) When is St Totteringham's Day?
What a week it's been for Arsenal, from the low of losing 3-1 to Rennes on Thursday night to the high of beating Manchester United 2-0 on Sunday. The Gunners are starting to believe.
They've been up and down this season but there is a marked improvement from their last campaign under Arsene Wenger.
Sunday's win over Manchester United, combined with the fact Spurs lost and Chelsea dropped points over the weekend, has left the Gunners in a strong position in the race for the top four.
In fact, with Arsenal just a point behind Spurs, Gooners are starting to wonder if they might be able to celebrate St Totteringham's Day - the day on which they officially finish higher in the table than rivals Tottenham Hotspur - for the first time since 2016.
2) Dr Rafa's celebrations
Newcastle are slowly climbing their way up the Premier League table and have now earned the fourth most points in the league since the middle of January.
From sitting in the relegation zone two months ago, Rafael Benitez has guided his team with surgical precision up to 13th.
Things looked shaky as the Magpies fell 2-0 behind against Everton but they scored three times to come back and once the Toon Army knew they had all three points, their manager performed his customary celebration of tucking his glasses into his jacket pocket.
Let's hope he doesn't start wearing contact lenses.
Anyone who has ever taken a penalty in a high-pressure situation has inevitably got it wrong. But while most of us have "skyed" our efforts in the past, Arbroath striker Bobby Linn created a whole new genre of penalty misses as he "sea-ed" his attempt in their League One defeat by Stenhousemuir.
Raheem Sterling has made a habit of making people look silly this season and he did it again on Saturday as he scored a hat-trick against Watford.
The Englishman's three goals came in a frantic 13-minute period, leaving more than a few loud-mouthed doubters with some egg on their faces.
In other Sterling news, don't think that suddenly changing your tune on the Manchester City forward will save your blushes, as Sterling jokingly shared his shock at Piers Morgan praising his performance.
Sterling wasn't the only impressive part of City's performance on Saturday as they recorded a 3-1 win to stay top of the Premier League.
Their stout defence left Watford without a single shot in the first half, making it nearly two full games since Ederson's goal was last troubled in the Premier League.
During that time, the Brazilian could have done a lot to familiarise himself with the local culture.
But after such a good run, their Wonderwall defence finally conceded a goal. We can only hope they Don't Look Back in Anger as Gerard Deulofeu was able to Slide Away from Kompany and co and score in the 66th minute. Whatever. 
7) Proof the Community Shield is not a competitive fixture?
Every year there seems to be a discussion over whether or not the Community Shield counts as a competitive game but we may finally have an answer, thanks to Leicester City.
Jamie Vardy scored twice as the Foxes beat Fulham 3-1, achieving what the club described as his 99th and 100th goals for the club.
It was the England striker's 94th league goal for Leicester, to go alongside two in each of the FA Cup, the League Cup and the Champions League.
But keen Foxes supporters will remember another Vardy goal for the club in the 2016 Community Shield defeat by Manchester United.
It seems unlikely Leicester would forget about a rare day out at Wembley, but have instead decided to not include the strike in Vardy's 100 competitive goals for the club.
This week's best goal comes from the League of Ireland as Cork City's Gearoid Morrissey made a mockery of the Finn Harps defence to pull out an absolute beauty. It seems he isn't a tap-in sort of player...
9) Save, save, save again
In case you somehow missed it, Millonarios earned a point as they drew 1-1 with Atletico Nacional in the Colombian Clasico at the weekend.
The result leaves Millonarios top of the table but they could easily have lost if not for the heroics of Wuilker Farínez.
The Venezuelan goalkeeper pulled off an astonishing triple-save to keep the scores level in the 85th minute of the game. 
There's late drama, and then there's the end of Sunderland's game with Wycombe Wanderers on Saturday.
As the match entered stoppage time, Wycombe were 1-0 up and both sides had 11 men. By the time the referee blew the final whistle, he had handed out three red cards - two of which went to players who had already been substituted - and Sunderland had equalised.